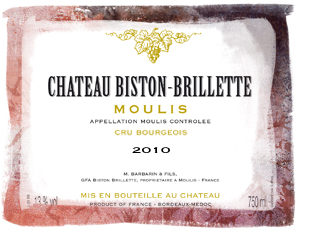 Remarkable vintage, resulting from slow and regular grape maturity. Dark and deep color. Beautiful dense and pulpy material. Floral, fresh, fine, precise and delicate nose. Long, powerful, structured, tight palate. Intense fruity finish, underlined by an elegant toasted vanilla touch. Crazy charm and enormous potential. Wait a little longer. It opens slowly: almost perfect. Exceptional success. Aging 12/20 years.
GUIDE HACHETTE DES VINS 2004
Attaquant de façon très agréable, le 2000 offre un savoureux côté charnu que mettent en valeur de beaux tanins. D'une grande intensité, le bouquet apporte l'élégance et la finesse que l'on est en droit d'attendre d'un vin du Médoc. La finale savoureuse confirme le solide potentiel de cette bouteille à attendre trois ou quatre ans.
VINS  MAGAZINE, janvier-février 2003
Robe intense, aux reflets de jeunesse. Nez net et profond, aux accents floraux et fruités, boisé très discret. Un millésime de plénitude, dont on apprécie les tanins soyeux et fondus, l'ampleur, le style aérien. Une réussite.
LA REVUE DU VIN DE FRANCE, septembre 2002
Nez superbement élégant, avec un grand fruit, une excellente maturité et un joli boisé vanillé ; bouche voluptueuse, pleine, veloutée, riche mais non dénuée de fraîcheur pour ce grand moulis raffiné.