CHATEAU BISTON-BRILLETTE 2013
Cru Bourgeois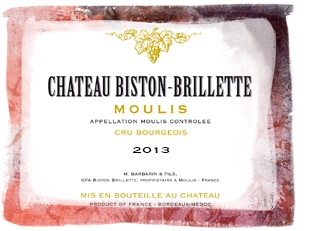 Small harvest born in the freshness of a wet spring. Honorable quality, due to the warm weather in July and August.
Delicate vintage to apprehend: severe selections, measured extractions, right and soft.
High standards in the blending: beautiful bordeaux red color, red fruits jam nose with toasted final, good density, soft, balanced. For our team, a sense of satisfaction and achievement in a complicated vintage!
 Download 2013 vintage pdf