CHATEAU BISTON-BRILLETTE 2012
Cru Bourgeois
Download 2012 vintage pdf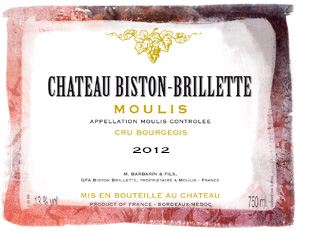 Late harvest, heterogeneous, good maturity through the last two summer months which were particularly warm, dry and sunny.
Precision optical sorting to keep the ripest berries, strict selection during blending and careful ageing. Experience and workmanship allow us in a difficult vintage to sign a wine of a beautiful franchise, well colored. Nice perfumed of flowers and fruits with soft oak touch. Full-bodied palate with tannins. Structured, full, fine, and harmonious wine. A beautiful BB to wait 1 or 2 years. Ageing 8/10 years.
Guide Hubert 2015-2016 – Ténor de l'année
Great expressive nose, showing a ripe fruit, flavors of coffee and toasted oak, clear, tasty and elegant palate with melting tannins, freshness, persistent aromas and well-balanced.
Guide Petit Futé Gironde 2015
Une robe rouge intense, jeune d'aspect. Le premier nez dévoile un bouquet de fruits rouges de belle maturité, habillé par un boisé parfaitement dosé. La bouche est charmeuse, suave, gouleyante, très gourmande.
Guide Gilbert & Gaillard 2016, note 90/100
Beautiful deep hue. Profound yet relatively subdued nose where black fruits, liquorice and oak perfumes intermingle. Dense attack with a degree of firmness. The mid-palate is slightly more velvety with a delightful liquorice-infused finish.
La revue du vin de France, Spécial millésime 2012 juin 2012
Nose characteristic of the vintage with an aromatic fruit but also some vegetal nuances. Generally well balanced, harmonious texture.
Journal Le Point, Bordeaux le millésime 2012 juin 2012
Red fruits, lightly melted, powerfull, rich mouth, strong tannin at the end, but nice structured wine.
Fruits rouges, bouche un peu compotée, puissante, riche, un peu accrocheur en finale, mais bon fond de vin.
Decanter, 85/100pts, juin 2012, Taster: Steven Spurrier
Good expression of cassis fruit, supple, forward, but nice tannin back-up. Drink: 2016 – 2022.
LEFIGARO.fr, la note de dégustation de Bernard Burtschy 15/20
Biston-Brillette est un des rares crus bourgeois du Médoc doté d'une vraie chair grâce à une viticulture probe. Il évoluera bien en bouteille.